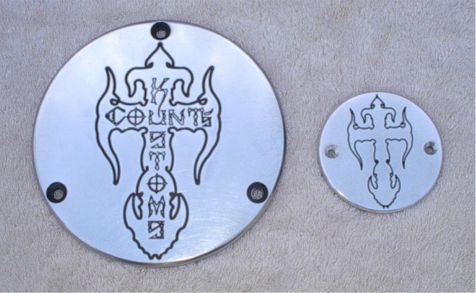 This is an example of our inlaid style - polished finish
---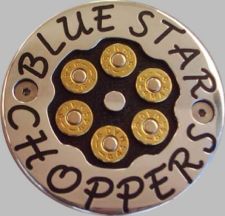 A order of 10
No charge for simple text
$79.00 ea ($790.00 for 10)
---
What the Customer asked for ....

One of one - $175.00

What the programmer thought would look cool .......

Shipped both covers
Email us to discuss your design
SEE MORE NEAT CUSTOM STUFF
on the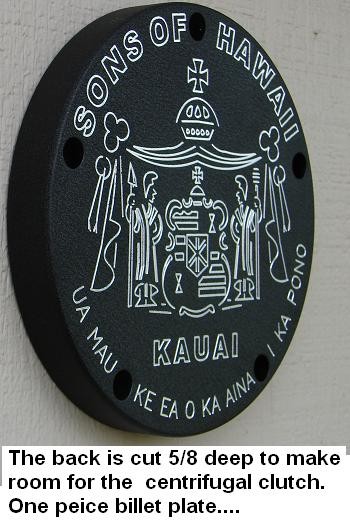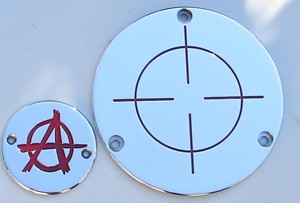 Quick Custom Points & Derby Covers
Inlaid Above
Raised Below
GET A QUOTE ....... sales@azece.com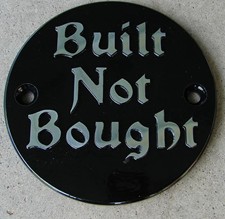 ---
Derby covers vary from $300.00 to $600.00 per unfinished cover, depending on the design detail required. There is a programming charge for all custom derby cover work at the price quoted above. Orders over 10 the programming charge is waved.
If you would like us to put a professional finish on your derby covers, we offer polished, chromed and powder coated for $40.00+ per cover
Note: If you want only ONE Custom Derby Cover, there is a minimum charge of $300.00 per cover.
---
Custom Derby Covers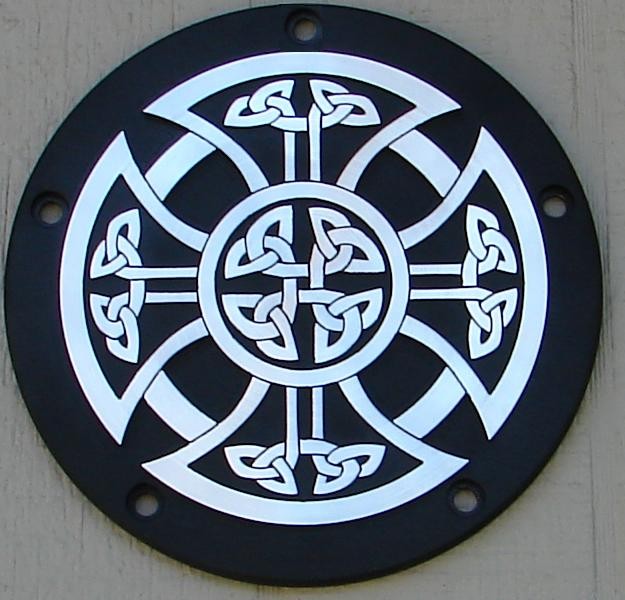 Celtic Cross
Custom Derby Cover
We make this fine cover to order, please allow two weeks for machining. Available for the twin cam only, the background is available in Gloss Black or Wrinkled Black, The top is machined off to make the artwork especially crisp and clean.
(this design happens to be the largest program we run for a single cover - 125,000 bits)
---
Style
Price
Select Finish & Type

Celtic Cross
Custom Derby Cover

$275.00
---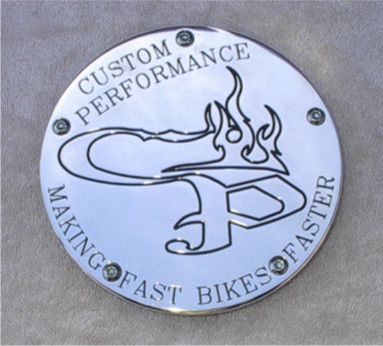 Inlaid Style - Polished Finish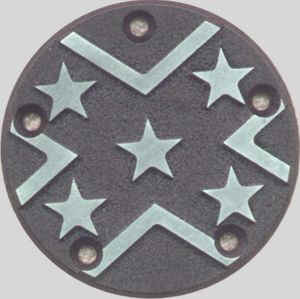 Raised Design - Powder Coated Finish
To Contact Us:
Extreme Custom Engraving
P.O. Box 38158
Phoenix, AZ 85069-8158
Phone: 602-471-8541
E-Mail: sales@azece.com

If you need to talk to CAP -
(Text, pix and flix)
his cell phone at: 602-471-8541 (24/7)
PLEASE speak loudly -
the machine shop is noisy
---
SEE MORE NEAT CUSTOM STUFF
on the
---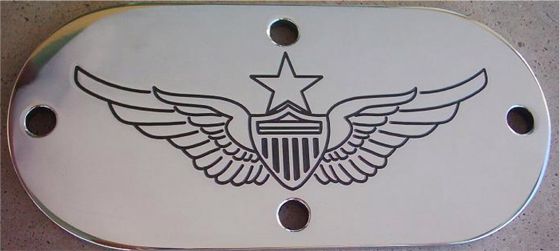 Inlaid Army Inspection Cover
We can cut all armed forces designs into an inspection cover
Click Here and let us know what you want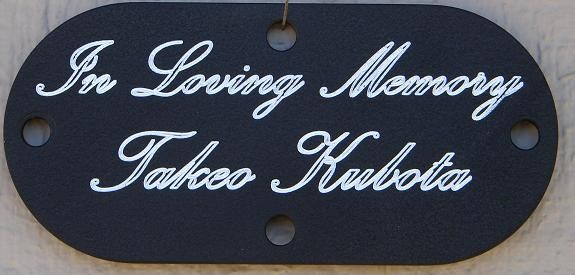 ---
Engine Displacement Covers
Click Here and let us know what you need.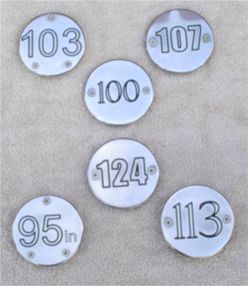 Inlaid Design - Polished Finish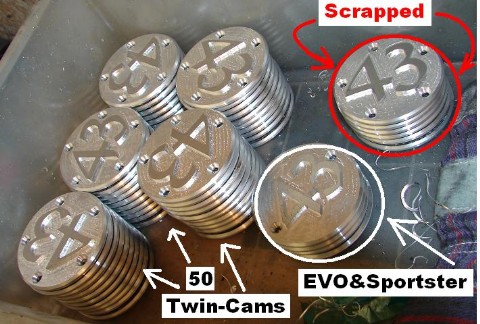 SEE MORE NEAT CUSTOM STUFF
on the
---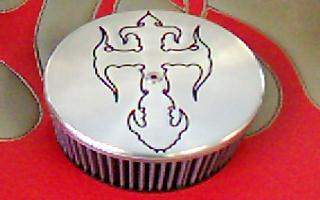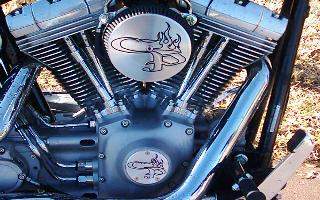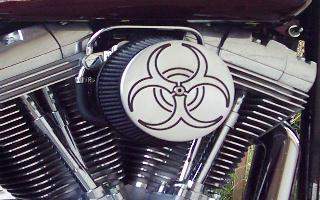 Currently manufactured in 7", 5 5/8" and 3 3/4"
These covers fit very well on the K&N aftermarket filter assemblies
The 5 5/8" is made for the Harley Performance Screamin' Eagle Kits.
---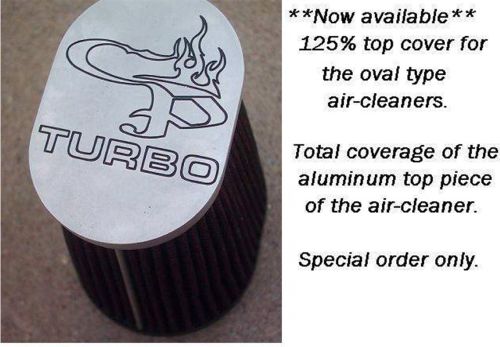 Click here and let us know what you need
---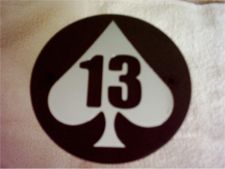 One of One Air Cleaner Cover for 67 Sportster.
Paid in full before work was started.
---
Custom Covers for REV-TEC Air Boxes
We have made a few custom covers for the REV-TEC air boxes. The cover is made from a solid 1 inch block of aluminum. They are made one at a time and very time consuming
(but well worth the finished product)
The picture below is of the back of the cover and shows the 3 lugs.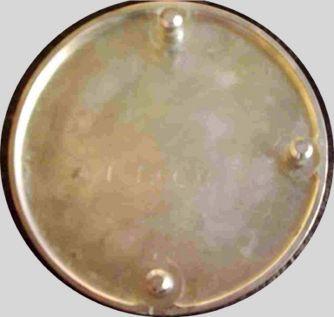 Starting price for each cover is $150.00 plus $6.00 S&H.
For more information or to discuss your custom REV-TEC project, E-MAIL us.
SEE MORE NEAT CUSTOM STUFF
on the
---
Belt Drive Covers
Cut Thru and Inlaid Styles
All Belt Drive covers are custom made to order. We will be happy to discuss custom designs you may have. Please contact us so we may discuss the specific design you are interested in and the finishes that are available.
Click to see our standard design Belt Drive Covers
---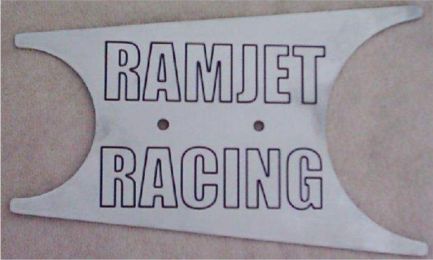 ---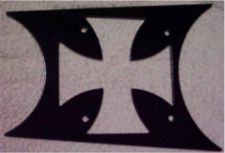 ---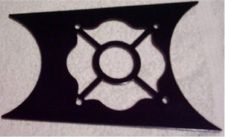 ---

To Contact Us:
Extreme Custom Engraving
P.O. Box 38158
Phoenix, AZ 85069-8158
Phone: 602-471-8541
E-Mail: sales@azece.com
If you need to talk to CAP -
(Text, pix and flix)
his cell phone at: 602-471-8541 (24/7)
PLEASE speak loudly -
the machine shop is noisy
---
Plasma Art Work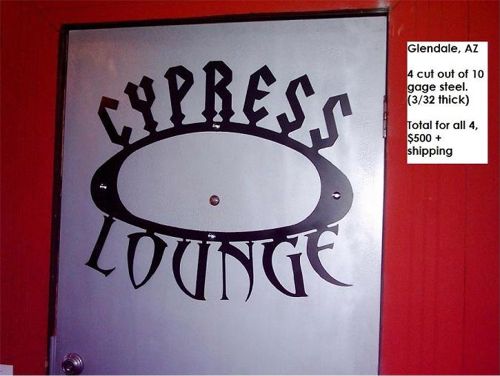 To Contact Us:
Extreme Custom Engraving
P.O. Box 38158
Phoenix, AZ 85069-8158
Phone: 602-471-8541
E-Mail: sales@azece.com

---
Custom Made Parts for Our Customers Bikes
See Pictures of Custom Work
Installed
Click thumbnail to see large picture
SEE MORE NEAT CUSTOM STUFF
on the
---
Novelty Billet Brass Bottle Opener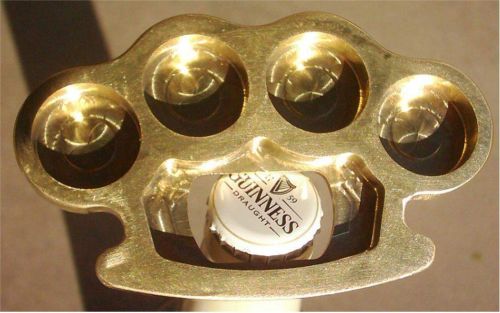 Two sizes available
Bartender & Barmaid (15% smaller)
Notice: finger holes are not drilled all the way through
---
Style
Price
Select Finish & Type

$49.00
Novelty Billet Brass
Bottle Opener
Notice: finger holes are not drilled all the way through
---
---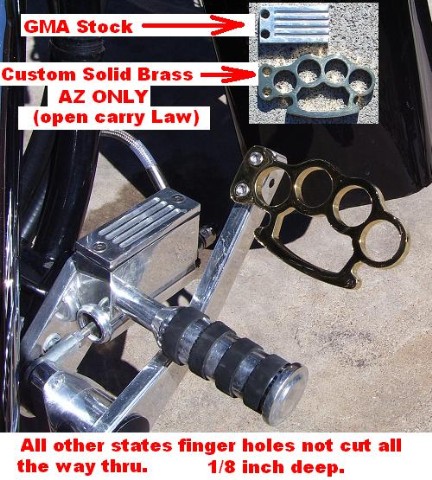 Click Here
Email us - Tell us the foot pedal's
location, type bike etc
---
If you need to talk to CAP -
(Text, pix and flix)
his cell phone at: 602-471-8541 (24/7)
PLEASE speak loudly -
the machine shop is noisy
SEE MORE NEAT CUSTOM STUFF
on the